One of the things we've noticed over the years is that one of the most common topics our customers bring up time and time again is long-distance unicycling.
But long-distance unicycling isn't like trick riding or putt-putting around in the driveway. It's the real deal, and you should be prepared for it.
So we spent a bit of time reflecting on the most common questions that come up, time and time again.
These are among the most common.
What Should I Bring?
This is arguably one of the most common questions: "What should I bring on a long-distance unicycling trip?"
Ultimately, that will depend on a couple of factors: time of year, distance, your level of experience, and how much room you have on the unicycle.
Also, it's something we covered at length in a previous blog. Please see our recent post, "What Do You Need to Take on a Long-Distance Unicycle Trip?"
We covered pretty much everything in there.
What Are the Best Racks for Long-Distance Unicycling?
While getting a custom job for your long-distance rig is always an option, it might be time and cost-prohibitive for some riders.
With that said, there are some commercially available handle/rack systems that will get the job done, and which offer some other perks, too, especially if you ride a bike.
For bicycle riders, options like the Thule Tour Rack are great preconfigured options. These can be attached to either the front or the back of a bike and will expand the platform with space for carrying your distance-riding essentials.
Aeroe Spider Racks are another great option for cyclists. Designed to fit any bike, rattle and sway-proof, and extremely strong, Aeroe Spider Racks are a great alternative if you need to expand your long-distance rig with a rack that will add storage space and attachment points.
What About Bags? Do I Need a Custom Job?
Long-distance bike riders have one big advantage over unicyclists when it comes to carrying gear: they have more room.
With a unicycle, your options in mounting your bags and packs are basically limited to the front or rear of the rig. You can't go with side-mounted configurations, or else your packs will bang into your legs.
When it comes to mounting your bags, the follow-up question becomes one of which handle system you use, so let's pivot to that.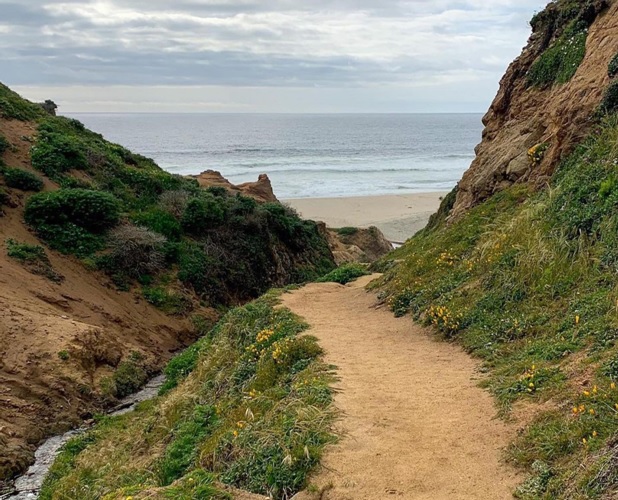 What Is the Best Handle System?
As with the other questions we've addressed so far, you may choose to go with a custom job.
But, custom jobs are expensive and time-consuming, and there are plenty of pre-configured, commercial options you can follow instead that will give you plenty of room for mounting your bags and packs.
One option is the Kris Holm T-Bar Mini Handle System. This system is ultra-lightweight and fairly versatile, and it will expand your rig with room to carry some gear at the front. The downside is it only offers room at the front, and since it mounts to the saddle/reinforcement plate, it's not that strong.
A much stronger, more versatile alternative (albeit heavier) is the Nimbus Shadow Touring Handle System.
This one bypasses the traditional 4-bolt seatpost fitting, using instead the front and rear handle bolts, making it stiffer, more rigid, and much stronger.
It is also adjustable and modular and offers room at both the front and rear of the unicycle for carrying bags and other gear. Plus, you can use the rear T-handle as an improvised kickstand to keep the rig upright after you've dismounted.
What Is the Best Unicycle Saddle for Long-Distance Riding?
The best unicycle saddle for long-distance riding is the one you like best. However, we have some thoughts on the matter.
If we had to make one blanket suggestion, it would be the Nimbus Air Saddle.
This was a long-term (long-distance?) project for us, as it was, and represents a stellar leap forward over the days of jury-rigging a more comfortable saddle by stuffing inflated inner tube under the saddle cover.
Instead, the Nimbus Air Saddle consists of three sealed, permanently inflated compartments (front, mid, and rear) encased in super-soft foam.
It's large, comfortable and supportive, and evenly distributes your weight across your "sit bones," to keep you more comfortable for longer.
Also, not directly related to the saddle itself, but make sure that when you're riding, you adjust the seat tube/bike seatpost clamp correctly for optimal saddle height. Saddle height that's too high or too low will rob you of some of the mechanical advantage of your leg's "power stroke," tiring you out more quickly.
Your seat height should be set so that your leg reaches about a 5° bend in the knee, never less than this.
What About Pedals?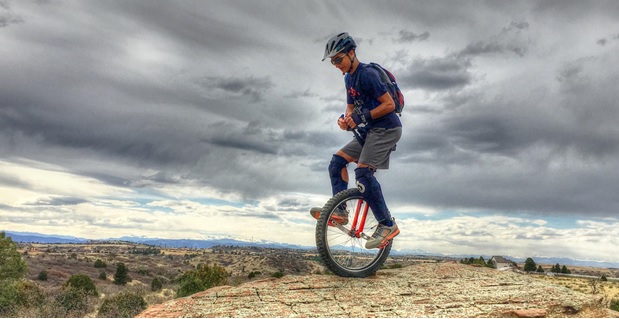 There are several different types of unicycle pedals available for long-distance riders. The two basic types we'll take a look at are flat pedals (of which studded pedals are an offshoot) and clipless pedals.
Clipless pedals, so called because they lack a toe basket or "clip," contain a special bracket into which a cleat on the bottom of your shoe is inserted, "locking" your foot in place. Yes, you need special shoes that have this cleat - like MTB shoes - and they must be compatible with the pedals.
The benefits of this is that they keep your foot fixed in the ideal position with the ball of your foot just about right over the axle that runs through the pedal. At least, that's the ideal position according to some people.
However, there are some that believe that the ideal position is to have your whole foot flat on the pedal.
Flat pedals are ideal for this, as they allow you to wear any flat soled shoes with them, and you can manipulate how your foot rides on the pedal platform.
Studded pedals are like flat pedals except they have raised projections - studs - that offer a surer grip between your shoe's sole and the pedal, especially in adverse conditions.
Studded and flat soles are not without their drawbacks (if you slip off the pedal, studded pedals can shred your pants legs or cause nasty scrapes) but they do also allow you to wear regular hiking shoes that will be much more comfortable if you aren't actually riding all day and spend time in camp afterwards.
So choose what works for you, just recognize there are benefits and drawbacks to each option.
What Safety Gear Do I Need?
It's better to be overprepared with unicycle safety gear than underprepared.
Always wear a helmet, on and off-road, that much is a definite.
Beyond that, it's a good idea to wear knee, elbow and wrist pads or gloves. These will protect you if you fall and moreover, will protect your extremities anytime you leave the road for a trail that goes through rough brush.
How Much Water Should I Bring?
Honestly, there's no single right answer here. You need to let your experience dictate how much you should bring.
However, you need to be aware that if you are going to travel 1000 miles - or even 100, for that matter - you can't pack up with all the water you need for the trip from the start. You just can't carry that much weight.
You have a few options here. Some cyclists prefer to use thost hydration-bladder systems that are compatible with some tactical packs. Some of them hold a liter or more of water, and they are easy to carry, fill, and use.
They can be a bit tough to clean, though, so other riders prefer hard water bottles like Nalgene bottles or just traditional blow-molded canteens (which, by the way, are cheap, easy to carry, and easy to clean).
If you're in it for long-distance, a good rule of thumb is always to have at least two liters of water on you at a time.
When you finish one (or drink half of your stock), refill the bottle at your nearest opportunity. Make use of rest stops, convenience stores, wells - anything you can find that will allow you to refill your supply. Just make sure you get permission to do so and the water supply is potable and safe to drink.
(Another good tip is to carry iodine water treatment tablets if you are ever unsure about a water supply, as these can be very useful in a pinch).
Keep in mind also that if conditions are hot and humid, you will probably drink more water-per-unit-time than if conditions are cool and dry. So account for that in your refill-route.
Gear Up: Unicycle Tools, Hydration, Bike Seatpost Clamps, Unicycle Safety Gear, and More
That covers the bulk of the questions that most of our customers ask us about long-distance riders, but there are others, and for all we know, we didn't answer yours.
If you have questions, or are simply here looking for safety gear, unicycle tools, or hardware like bike seatpost clamps, get in touch with us directly at 678-494-4962 and we will be more than happy to help.