Schwinn Bicycle Company is one of the most iconic manufacturers in the industry, and they have a company history and some unique accolades to merit that claim. Since 1895, Schwinn has been a key player in the cycling industry and has produced and released a variety of influential and recognizable designs, including the Schwinn Sting-Ray and the Schwinn Corvette.
What some may not realize is that over its history, Schwinn has also produced a variety of unicycles, some of which you can find right here at Unicycle.com. It turns out there are some good reasons to indulge your passion in a Schwinn retro unicycle !
Dig the Retro Vibes
Schwinn unicycles carry all of the prestige due to the brand, and Schwinn retro cycles carry all that and then some extra class. A great reason to invest in a Schwinn retro unicycle is simply for the appreciation of the throwback vibes.
We offer two Schwinn retro unicycle s here on our website, a Schwinn 20 inch model as well as a 24-inch model. Both of these unicycles share a number of features in common. Both of them feature frames that are made the same way they were when the company was located in Chicago, with the notable exception that they have updated bearing holders.
The frames are finished in an attractive, attention-grabbing orange and the fork of the frame is attractively emblazoned with the "Schwinn" logo. They're also manufactured to an exceptionally high standard of quality and not just meant for aesthetics. These are the types of unicycles that you can ride and enjoy for years to come.
Suitable for Beginners
These unicycles, specifically the 20-inch model, may be suitable for some learners, so if you're interested in getting into the sport, you might find that a Schwinn retro unicycle kills two birds with one stone. It's a retro treasure, and you can learn about it.
While most adults can learn on 20" unicycles, 20 inches is not a magic number. Really, it has to do with your inseam measurements. If your inseam length is at least 28 inches, the 20" Schwinn is suitably sized; we recommend riders with inseam lengths between 28 and 33 inches choose 20-inch unicycles.
If you're a little taller, you may still be able to learn on the 24 inch model. We suggest that 24-inch models are most suitable for riders with inseam lengths between 31 and 36.6 inches. Just remember that some riders find it easier to control unicycles with smaller wheels and that you can cut down and adjust the height of the seat post for better comfort, within reasonable limits.
Sized Right for Some Freestyle Disciplines
There may be tougher, more compact unicycles here in our shop, but some riders might find that our Schwinn retro unicycles are suitable for freestyle riding. Depending on your skill level and your exact discipline, these unicycles might just be the perfect ride.
While they aren't expressly designed for freestyle, they sport steel frames, hardened CrMo spindles, and tough singlewall aluminum rims. For what it's worth, they also have a comfortable Schwinn saddle with an integral bumper and carrying handle.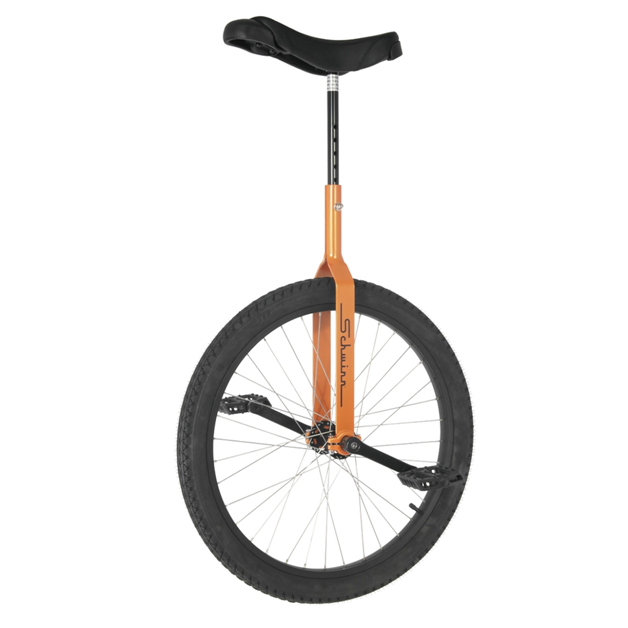 Then again, another great reason to get one of these Schwinn unicycles is simply for the value of climbing a new mountain and learning a new skill, and there are some surprising benefits of learning how to ride a unicycle - which you can learn about at length in our blog " Five Great Reasons to Get Yourself a Unicycle for Mountain Riding ."
Mountain unicycle or not, learning to ride a unicycle is a great way to get some exercise, especially if you don't have a lot of time at your disposal. It can be much more tiring than riding a bike since you need to perfect your skills of balance and orientation in order to master the one-wheeler.
In addition, and speaking of riding a bike, riding a unicycle can make you a better cyclist. If bike racing or mountain biking is your main discipline, riding a unicycle will only promise to make you better; you'll get stronger and have to hone your balancing act in response to the challenges of the unicycle.
Plus, it's just a fun challenge. Maybe it's one of those things that you've always told yourself you'd learn how to do someday. Well, someday never comes, but today is here, and it's a fine day to treat yourself to a Schwinn retro unicycle and learn a new skill as a result.
Contact Us to Learn More!
Do you have questions about this unicycle, how you can get started learning, or just what types of safety gear you should wear while riding? Just get in touch with us and we'd be happy to help - 678-494-4962.