If you want to learn to ride a unicycle, well, you need a unicycle. You also need a helmet, gloves, and knee, elbow, and wrist pads. Sturdy footwear is a good idea, too.
These other features? Not so much.
1. Brakes
Just starting out? You're going to have your hands full finding your center of balance, learning to put your weight in the saddle, and figuring out how to idle - which is the jumping-off point for so many other unicycle skills.
If you've really never done this before, a brake is just not necessary. Maybe once you get into distance riding or want to learn how to moderate your speed going down a grade, a brake will make sense.
Until then, focus on learning to ride and free mounting.
2. Handle systems
Now, to be clear, this flies right in the face of another note we made in a recent blog, Looking Back (Fondly): These Are the Innovations That Have Changed Unicycle Riding for the Better, in which we advocated for the use of handle systems as they give you a place to rest your hands while redistributing weight off of your seat and offering more control over the cycle.
But the use of handle systems is a benefit mostly to intermediate and advanced riders that spend a lot more time in the saddle in each riding session.
You're just going to be figuring this out. For beginners, the handle system is simply not necessary. In fact, the handle system is just another protrusion for you to catch on which can have you tumbling with your unicycle. Until you develop more proficiency riding longer distances, worry about other more important things.
Note: This does not apply to lift handles that are a part of the saddle.
3. A tire wider than 3"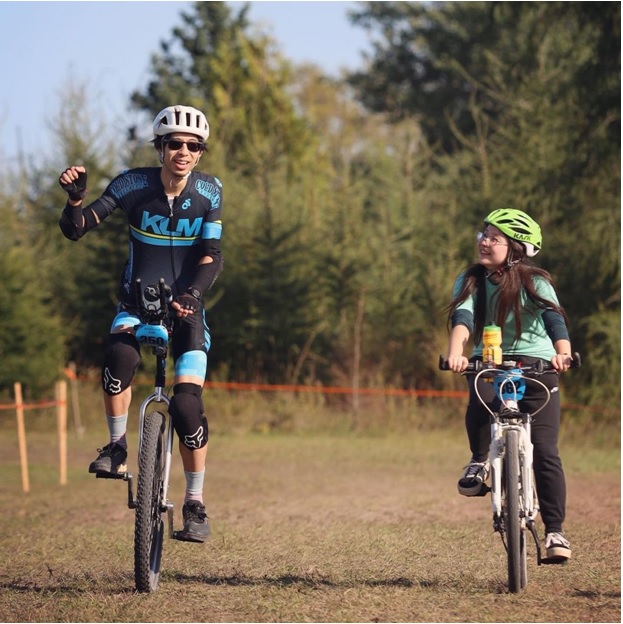 For beginners, we recommend tire widths between 2" and 2.5". Really, anything below 3" is suitable.
Why this size? Well, tires between 2" and 2.5" handle well on most surfaces (excluding loose sand and snow). Moreover, tires that are smaller than that will be too narrow and unforgiving. Larger tires also don't give you enough air pressure to dial down and find the sweet spot between responsiveness and rolling resistance.
What's much more important than tire size and width is knowing how to properly set tire pressure.
Note: Knowing how to properly adjust air pressure is critical
We've covered this topic at length in a previous blog. For more information on setting tire pressure, consult Setting Your Unicycle's Tire Pressure: Getting It Right.
4. Studded pedals
Studded pedals may be appealing because they seem like they offer more traction to the sole of your shoe, and to a point, they do, but they also represent a risk.
If you're riding at speed, your foot slips off the pedal, the pedal will keep going, which is a recipe for a scraped calf or shin.
Although, even smoother pedals can do a number on you in this scenario. If your heart is set on pedals with aggressive studs, consider more aggressive safety gear.
Note: This makes unicycle safety gear, including knee, elbow, and wrist pads, as well as leg armor, even more central to safe learning.
For instance, the Kris Holm Percussion Leg Armor we sell here is designed to provide full coverage to the front and back of the leg and has integral knee pads. They're also machine washable.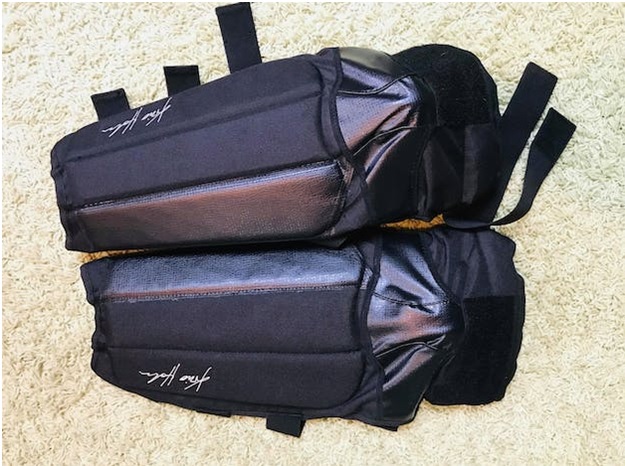 Just get elbow pads, a helmet, and wrist guards or gloves and you're set.
5.A fancy saddle
The truth is, while the Nimbus Air Saddles we sell here are a feat of engineering and provide a truly smooth, well-cushioned ride, if you've literally never ridden before, you probably just don't know what you need.
Until you test out your stock saddle a little time is needed before you want to make any change like this. Plenty of first-time riders get in the saddle, adjust it, get their proverbial sea legs, and do just fine.
Give your stock saddle a chance before you go out and get more parts that you just may not need.
6. Short crank arms
Beginner unicyclists should (all things considered) stay away from short crank arms for general riding. This would be 125mm for 20" and smaller wheels, 150mm for wheels 24" and larger.
Another option would be the Nimbus VCX Plus, they are a three-hole crank arm available in 2 sizes that offer 3 options, the 150/125/100mm or 170/152/114mm cranks.
The three-hole configuration gives you so much more flexibility with where you want to set the crank arms, so you can dial back or extend the length as needed - but again, longer is better for learning.
Why, you ask? Because a longer crank arm offers you more mechanical advantage over the wheel, both when you are trying to get moving and when you are trying to stop.
All in all, it's the way to go. You can always get and install shorter crank arms later.
Call Us!
Learning to ride a unicycle can be a feat, especially if you have no formal mentor. We are here to help, though.
If you have any questions about parts, features, or unicycle safety gear like knee, elbow, and wrist pads, or would simply like beginner recommendations, give us a call at 678-494-4962.