Love the look of unicycles with fat tires, like the Unicycle.com Hatchet? Not sure you want a larger model?
The Unicycle.com Hatchet Mini may be for you. Here's what you need to know about it.
Tech Specs
The Unicycle.com Hatchet Mini 20" unicycle preserves a lot of the specifications and features of its larger cousins.
It has a gray 20" Hatchet Mini Super Wide steel frame with 40mm stamped main cap bearing housings and a 36 hole steel Super Wide hub axle with a cotterless CrMo spindle; it's 125mm from center bearing to center bearing.
It comes with a 4-hole 25.4mmx300mm chromed steel seat post with a rectangular mounting bracket, a red Nimbus double-bolt 28.6mm seatpost clamp (we carry replacement seatpost clamps via the previous link), and a Club saddle with a front lift handle.
The wheel has a 100mm wide aluminum Nimbus Snowcat rim with a rubber rim strip. It takes a 20"x4" tube and comes with an Innova 20"x4" knobby tire.
It also comes with 127mm black steel cotterless crank arms and plastic DX style pedals with 9/16 threads.
The whole thing weighs 14 pounds.
So what's it good for?
Good for Learners, Good for Exercise
At this size, the unicycle is great for beginners. This unicycle combines some of the best features of both 20" and 24" unicycles which puts it in a unique class. This cycle is great for general riding but not for hopping and jumping, the axial and cranks are not designed to hold up to this style of riding.
Traditionally, 20" one-wheelers are probably the most common size, especially for adult learners. They're great for riding indoors and they're very agile thanks to the compact wheel dimensions. This makes them good for beginners but also suitable for unicycle sports like basketball and hockey.
However, even though the Unicycle.com Hatchet Mini is technically a 20" unicycle the outside diameter of the wheel is nearly 24" due to the fat tire. This gives this Hatchet Mini handling very similar to a 24" unicycle, sort of like a 24"x1.95" model.
We also recommend 24" unicycles for beginners, especially adults, because the wheel size offers a decent balance of forgiveness and responsiveness. They handle well, are fairly agile, and are better for distance riding than 20" models.
Also, the larger wheel size makes these unicycles better suited for freestyle riding and some Muni applications (see below). With that said, we do not recommend this unicycle for extreme trials.
Another great thing about this size of unicycle is that it's a suitable option for those looking to get a nice workout in, especially if they only have a half hour per day or so to devote to it.
At this size, this unicycle will yield speeds and exertion similar to a jog - but, since it's a cycle, it's a low-impact option, making it great for those with joint concerns.
All in all, this might be a good beginner cycle for you if you have a minimum inseam length of 25".
But if you have questions, don't hesitate to reach out to us at 678-494-4962.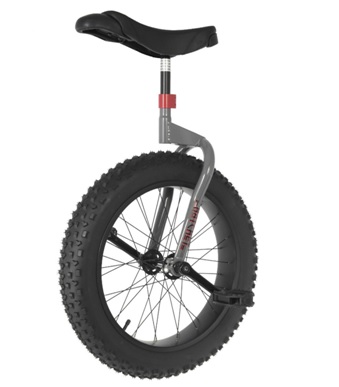 Superior Traction: Good for Muni Riding, Too
Besides its unique dimensions as a smaller Hatchet, the Hatchet Mini offers some advantages thanks to its configuration with the fat tire that make it better on a wider range of surfaces.
Sure, you can ride your Hatchet Mini inside and on smooth ground, but it's a great "all-terrain" unicycle, too.
The wider, knobby tire offers better traction (when inflated properly, see below) for a wide range of surfaces that just aren't amenable to thinner tires. These include snow, sand, and mud. If you're a trail rider, this might be a good option for you, although for distance it might get a little tiring.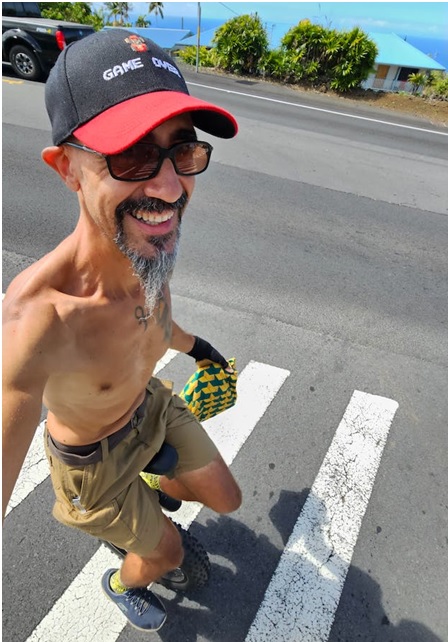 On that note, it's a solid pick if you're interested in Muni riding but you're not ready to take on a model with a larger size like a 27.5" or a 29".
The wider tire offers better traction on uneven terrain and soft ground, and unicycles in sizes similar to this are great for hopping and jumping - which is necessary on many trails.
Plus, it's just fun to be able to take a unicycle out in more spaces that those with thinner tires just can't easily tackle.
Filling the Tire Properly
One thing we feel the need to cover here is how to fill the tire properly. It is imperative that you fill it to the right pressure or you're not going to like how the unicycle handles.
Also, the markings on the tire sidewall are for bicycles, not unicycles. So do not fill the tire to the pressure indicated on the sidewall. Instead follow the protocol below.
Start by filling the tire to 10 to 12 PSI. Start riding and see how it handles. If it handles well, you're good to go. If not, add 1 to 2 PSI at a time and get back in the saddle. A change of 1 PSI makes a big difference and you don't want to overshoot it.
We recommend using a low pressure gauge - this can help you with taking accurate pressure readings at these low pressures.
The reason for these special instructions is that unicycles with fat tires handle differently. You want to run at a lower pressure, between 15 and 30 PSI, and frankly, for most riders, even 20 PSI is too full.
We covered this topic at greater length in our recent blog post, Setting Your Unicycle's Tire Pressure: Getting It Right. For more details consult that post or contact us directly via the number listed above.
Don't Forget Unicycle Safety Gear
The only other advice we have to offer before you dive into a unicycle with a fat tire like the Hatchet Mini is to make sure you're prepared with the right unicycle safety gear.
Make sure you always wear a helmet and protective footwear when riding. Other riders also wear knee, elbow and wrist pads and some choose to wear gloves, too. Leg armor is also a good idea - it includes knee pads and fully protects the lower leg.
Otherwise, don't forget to check out our collections of unicycle parts and tools, in case you want to replace anything like pedals, crank arms, or seatpost clamps.
And if you have any questions at all before buying, call us at 678-494-4962.