There is a (better than) good chance that one of two conditions applies to anyone that has gotten to this page. Either the person reading this at the moment is a unicyclist, or he or she knows a person that is a skilled unicyclist. In some situations, both of these may apply.
That's good news, because it means you're in the right place for the internet's best collection of unicycles, odd bikes, accessories, safety equipment and other gear and equipment for unicycling riding. We're also proud to offer you exceptional customer service.
Most of the time, that's all that matters, but in this particular case, we have a feeling you might be looking for a little something extra. Finding the extras in a sport like unicycle riding can be even harder than finding the gear and equipment for riding.
So then, how can you find unicycle gift ideas for the special riders in your life when there are so few outlets that sell them? Easy - just come right on back to us here at Unicycle.com and find what you need. We have more than most, and you're always likely to find something new.
Check here first for unique unicycle gifts, and if you have questions or need some guidance, get in touch with us!
Stunt Unicycle Gift Ideas
What better gift for a rider - at least one who likes to show off his or her skills - than with unique stunt gifts and accessories? Even though the image of a "juggling unicyclist" might have been used to mire the popular conception of unicycle riding as nothing more than a cheap trick, it's still hard, people still do it, and it still catches attention. After all, some riders ride for just that.
If you know a stuntin' unicyclist, you might just find your best gift to him or her yet with one of the following gift ideas.
-Juggling Balls - Juggling balls are the quintessential juggling item; it's what most people learn to juggle with, and since you don't need to balance the flight of the balls or account for rotation they're the perfect beginner's tool.
Although, you don't need to get them for someone who already knows how to juggle. They'd be just as good for someone who knows how and likes to put on a show!
-Juggling Clubs - Juggling clubs or sticks presents more of a spectacle than juggling balls does, and rightly so - it's a lot harder and takes much more practice to master. The juggler has to account for the speed and rotation of the clubs as well as their flight in order to master them. Juggling them on flat ground on two feet is hard enough; juggling them in the saddle of a unicycle deserves praise! If you know a club-juggler, consider a gift like our Zeekio Pixie Junior-Sized Juggling Clubs!
-A Diabolo Set - Similar to juggling props, a diabolo is a two side top that is spun and caught using two batons and a string supported between them. Skilled diabolo masters can perform crazy-impressive spins and tricks using a well-made and perfectly round and balanced diabolo, just like this one.
Our Diabolo Set is made with a triple-ball-bearing design and nearly perfectly round polycarbonate cups that are impressively tough. If you know someone who uses this interesting prop it would make a great gift; if not, it's a great time to learn a new trick, this set comes with instructions!
Let Them Customize Their Ride!
You don't need to get tricks for unicycle riders; after all, a lot of riders don't like the image of riding as an "act," and rightly so. It takes years of dedication and patience to master riding the one wheeler, and there are plenty of unicycle gift ideas to honor that dedication. Why not make a gift for a special someone in your life to personalize their ride?
-Valve Caps - Valve caps are some of the most unique ways, and most importantly one of the easiest ways, that you can put a personal slant on your favorite set of wheels. Or, maybe in this case, they're one of the best ways to put a spin on your favorite set of "wheel."
Check out our collection of custom valve caps in our collection of unicycle gifts and pick out a set that you love - or pick out a set that that special someone will love. We have lots to choose from, and something to speak to every preference out there. Make a splash with our alien or grenade themed valve caps, which are available in several colors; or find something else that appeals to you!
-Custom Colored Pedals - Another relatively quick and easy way to give your unicycle a touch of personality is to add some new pedals to the cranks. In many cases, you can switch them out fairly painlessly, and adding your favorite color can be a cinch. We offer Fyxation pedals on our site in a rainbow of colors. They are made from impact-grade nylon and come with tough chromoly spindles; they're both cool looking and built to last.
-Spoke Beads - Riders who don't mind turning heads for the sake of a spectacle, check out the spoke beads we offer here on our website. They slide right onto your spokes and will add some flash and color!
-Stickers, Head Badges and Emblems - We also offer quite a few themed and branded stickers in our collection of unicycle gifts, as well as head badges and emblems. If you want to show off your Unicycle.com pride, you can add our Unicycle.com Head Badge to the frame of your favorite ride; if nothing else. It's attractive brushed brass finish will add class and character in any scenario.
Helpful Multitools
Normally, we wouldn't include multitools in our collection of unicycle gifts, but there are a couple picks in our shop that are so cool we just have to call them out. Every serious rider probably has a fleet of tools in the shop, but not everyone has a trick up their sleeve like the Unicycle.com Multi Tool Keyring. With its handy keyring, this little tool can be kept at arm's reach all the time. It comes with four Allen keys, a PH2 screwdriver bit, two spoke keys and a 10mm ring wrench. Small and useful, it would make a nice little token of appreciation for a onewheel rider!
Give the Gift of Unicycle Jewelry!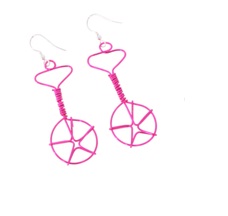 You can also get inspired with some of the unicycle themed jewelry and other trinkets that you'll find here on our site. Perfect for both men and women and available in a range of colors, our unicycle jewelry is one of a kind and exemplary not only for its uniqueness but also for its quality.
Take any of our unicycle themed earrings. For one thing, they're available in quite a range of eye catching colors, so whether you're more of a dignified, polished silver type or an Electric Blue sort of person, we have something for you either way. They're vibrant and eye-catching with just the right amount of character - the unicycle ornament that hangs from each earring is 2 and a half inches long - these aren't tiny!
All of our wired unicycle earrings come with sterling silver ear hoods, and all of them are handcrafted in the United States, so no two will be exactly the same. Some things are still made the old fashioned way for uncommon quality and these are some of them.
We also offer unicycle themed ornaments on our website; perfect for converting into holiday based decorations or just pinning to a corkboard to show off your spirit, these are available in a wide range of colors as well!
Another great highlight from our collection of unicycle jewelry is our unicycle necklace. Perhaps only slightly toned down when compared to our wired unicycle earrings, our unicycle themed necklace is another unique highlight from our unicycle gift collection.
Made of solid copper wire and paired to black cord, though these little one wheelers are not suitable for trick riding or trail riding, they will make a splash. Also, just like our unicycle earrings, each of them is entirely handmade, so no two will exactly match. Much like every unique rider, each piece exhibits its own little personality. They're also coated with a clear finish so that they won't tarnish, to keep them shining for years to come!
Apparel Makes a Splash in and out of the Saddle
Perhaps the most universally appealing items from our collection of unicycle gift ideas are selections from our assortment of apparel. Among our unicycle themed and branded apparel you'll be able to pull highlights in t-shirts, hoodies, socks and more.
Are you looking for a way to honor the special rider in your life by sending a message? We offer plenty of unicycle t-shirts to do just that. This is the type of rider for whom the stunt accessories above might not be the best choice for gifting.
This is the type of rider that remembers every unplanned dismount and scuff since getting in the saddle for the first time. This is the type of rider that knows the challenges of trail and mountain riding or touring, and how much discipline and fortitude it takes to tackle them.
This is the type of rider that boldly and proudly exclaims "I am an athlete" whenever someone casts a doubting light on the sport of riding a unicycle. Well, let him or her say that in less than words with our "I'm An Athlete" t-shirt.
That's just one of the unique pieces of apparel that we offer in our collection. We also provide plenty of colorful and attractively branded and themed Penny Farthing t-shirts, Nimbus t-shirts and much more. We even carry shirts for the little ones and aspiring riders out there!
Besides, if you're looking for something a little less conventional than a t-shirt, or just more visible, maybe a branded hoodie is more to your speed. Perhaps something more along the lines of branded unicycle socks! Whatever the case, you can find something to suit your fancy via the link above. Check it and if you don't see what you're looking for just give us a call!
Handmade Cards
We also sell some really beautiful and totally unique handmade cards in our assortment of unicycle gifts. They're the perfect way to put a personal slant on your well-wishes and thank yous!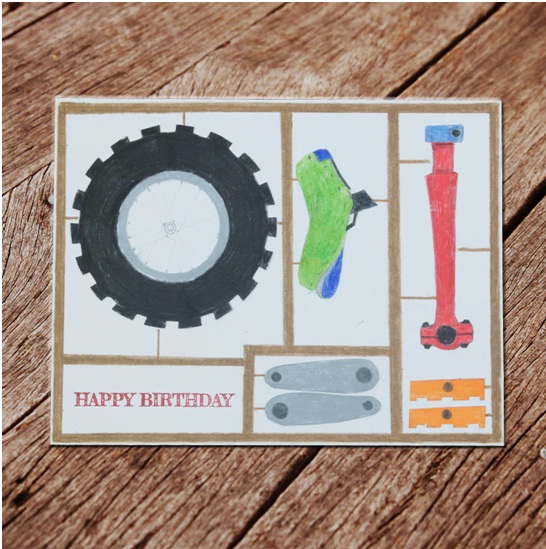 In our collection you'll find multiple unique and handmade cards themed for Christmas and the holiday season, so you can send a really personal touch along with your gift - whether you're the unicyclist or the person to whom you're sending the card is.
Looking for something else? We also sell unicycle themed birthday cards, get well cards, and much more - and all of them are entirely handmade here in the U.S.A. from high quality paper and decorative accents.
They say it's the thought that counts, and it takes quite a thought to conjure up a handmade, personalized, themed card for that special person!
Decor and More
We also offer unique unicycle themed decor here in our selection. Items such as our Unicycle Parking Sign and Kris Holm Challenge Poster. Perhaps the best way to make a nice offering is with a piece of decor that the recipient can proudly hang up in a high-traffic area for all to see.
Just like our unicycle t-shirts and other themed apparel, unicycle wall decor will not go unnoticed!
Not seeing just the perfect something to give as the ideal gift? Don't worry - we can help out - and all you need to do is get in touch with us!
If you can't find what you're looking for or you need a little bit of assistance or suggestion to find a gift that you can call truly perfect, reach out to us via the live chat at the bottom of your screen. If you'd rather speak to us on the phone, you can reach us at 678-494-4962.