Some people choose to take up the sport of cross country. The feeling they get from the accomplishment of putting many miles behind them on foot is like no other. They derive purpose from the challenge and the accomplishment; it's all worth it with the high of finishing a race.
Others put their time into rowing. The feeling of gliding over the water at a pace that others can't even match on foot is exhilarating, and the exertion is on par. For them, the freedom of being on the water paired with the trial is comparable; hard work earns a great payoff when you put the time in.
Then there are rock climbers, whose determination and strength, though different from cross country runners and rowing crews, is to be respected. They embody stamina, spirit, and determination, and every single decision about what hold to take can make or break an attempt to ascend a rock face. Their determination affords them a similar sense of accomplishment.
There are a number of different athletic pursuits; this is only a small insight into some of the many, many sports that any individual might choose to take up. A list would be a pointless waste of words; suffice it to say that for every interest and or every personality, there are unique athletic challenges awaiting, and each of them offers something special of its own.
For some of us, the thrill comes in the form of the one wheeler. Where others get a rush by taking a bike on the open road or on a mountain trail, we enjoy the thrill and the exertion of conquering that challenge in the form of a package that offers one fewer axle; and though the package is smaller, the reward is commensurately larger.
There is a popular perception that riding a unicycle is an act or a stunt. This could not be farther from the truth. Those who put in the time to master the unicycle are athletes who deserve an uncommon measure of respect. Learning to ride a unicycle presents completely unique difficulties that often are hard to oversee, similar enough to riding a bicycle but unique all their own.
Through all of the trials of learning to balance, maintain a forward course, reversing and riding backward, and learning to turn, steer, brake, and much more, you develop a special appreciation and fondness for the unicycle. All of the scuffs and unplanned dismounts that you're likely to go through while learning only add to the feeling of achievement once you become proficient.
Therefore there is a certain level of pride that accompanies the success of tackling a unicycle. It does not detract from any other athletic successes, but it is completely unique, and the camaraderie that many unicyclists feel toward each other is like no other.
Because you have taken the time and committed to becoming a unicyclist, you deserve to proudly show off that badge of honor. You are an athlete of uncommon grit and determination, and master of a difficult and sometimes mercurial machine. Show off that pride; spread the word that riding a unicycle is not a trick but a true skill worthy of admiration.
You can do that, too, with some of the really unique gifts, tools, and accessories that you will find here at Unicycle.com. While it shouldn't come as a surprise that we are the foremost provider of unicycles, protective gear, and accessories for riders, we're proud to announce that we also offer a colorful line of gifts that are absolutely perfect for unicyclists. Check out some of the categories in gifts that we offer below, and don't be shy about reaching out to us to learn a little more about our selection. Whether the gift is for you or for a special rider in your life, we'd be more than happy to help you find just the perfect thing.
Apparel: Pick up a Unicycle T Shirt or Hoodie!
Everyone has their preferences in fashion, and apparel is simply a great way to show off your sense of style. That's why there are so many popular brands, fashions, and designers. Companies are always looking to promote their wares through unique apparel and fashion accessories, and individuals are always looking to express themselves in the very same way. Here at Unicycle.com, we make it easy for you to show off your intrepid spirit with some of our unicycle themed clothing.
Take any of our many fine examples of a unicycle t shirt as an example. A t shirt is a versatile way to make a statement, and comfortable on top of that. If you can't go around on your unicycle, take a unicycle t shirt as a statement of your accomplishments as a rider.
Make a simple yet effective statement with our Unicycle.com long sleeve shirt, which is not only a comfortable but a colorful way to show off your affiliation. This cotton and polyester blend is a pleasure to wear and shows off our logo on the front and nimbus on the back. Everywhere you go, there will be no doubt about where your heart lies - seated with the rest of you in the saddle of your favorite unicycle.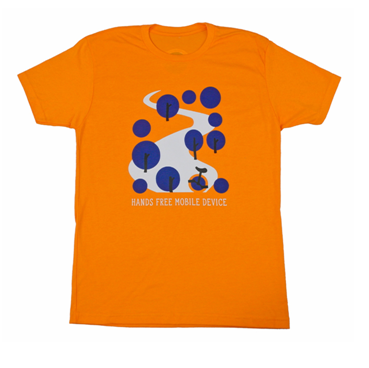 If you're looking for something a little bit brighter and more outspoken, then you just can't go wrong with an option like our Club T-Shirt . In 100% pre-shrunk cotton, this is a crazy comfortable shirt that is breathable as well; you can wear it as a statement of your love for the sport or even rock it while you're riding. In bright orange and complementary blue, this shirt is a big bold statement about your pride.
Perhaps our best unicycle t shirt is our aptly named and refreshingly direct "I'm An Athlete" t shirt. This great pick from our collection leaves no room for artistic interpretation - you're an athlete, first and foremost. You put in the hours of practice and dedication required to become an adept rider and you deserve the credit that any other athlete deserves. If anyone out there doesn't know it, make a strong statement with this shirt. It's a pretty cool-looking shirt, too, with its somber slate blue background and catchy, even impressive graphic.
It's hard not to love our Unicycle Dot Com Shirt, which is sharp, eye-catching, and to the point. Its tri-blend is comfortable and great to wear whether you're just lounging around or hitting a trail. You won't fail to turn heads in a shirt like this, but don't just take our word for it. A picture says a thousand words, check it out.
You don't need to stick with a t-shirt if you want to see some other options in unicycle themed apparel, though. Here we offer plenty of other selections in our catalog to show off your spirit. Check out our Unicycle.com/Nimbus Hoodie that we offer here to make a statement through the cooler months.
Just like many of the other shirts in our online store, this hoodie is direct in its messaging - it shows off our logo on the front as well as the Nimbus logo on the back. Throw it in a bag so you can pull it out when the weather drops. It's a comfortable 80-20 cotton-poly blend, a poignant message, and a conversation starter, to be sure.
We also added some cool unicycle themed socks to the mix to keep things interesting. Everyone expects a themed t-shirt or a hoodie but you can really add some flair to your wardrobe with some themed socks. Check out our page of apparel to see some colorful branded socks. On that page, you will also find every one of the other pieces we showcased here as well.
Jewelry and Ornaments
When you visit Unicycle.com to find some colorful and spirited ways to show off your intrepid spirit and your affinity for the unicycle, you can find so much more than just our apparel. We also offer some really cool unicycle themed jewelry and ornaments here on our site, many of which are handmade here in the United States and truly are one-of-a-kind.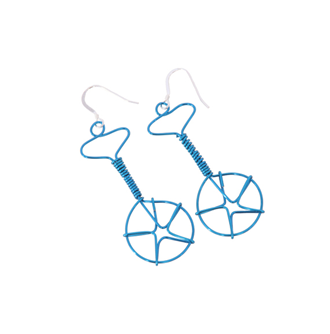 Unicyclists possess a totally independent ambition, and sometimes nothing can represent that better than some handmade jewelry. Handmade designs, after all, are themselves entirely unique and each example of them will present markers that make them unforgettable. To wit, check out some of our Wired Unicycle Earrings that you can find in our collection of Jewelry, Cards & Keychains.
The link above brings you to a fine example of our handmade Wired Earrings in electric blue. They are bright and unforgettable, to say the least. Unlike the character of manufactured jewelry, our Wired Earrings have that individual charm, the perfect gift for a rider to bring a little bit of the sport along regardless of where they go. You can't miss them, either - they're two and a half inches long and the hooks are made from sterling silver. They bring plenty of shine and impression to the table. While they do represent a high-level of craftsmanship, they are not recommended for riding, and there's one more thing to keep in mind. If electric blue isn't your color, you can find these earrings in a number of other hues - hot pink, neon green, silver, and purple are some of the colors we offer in our catalog.
We also offer other unique pieces of jewelry like our Unisex Unicycle Necklace that is great for both men and women and is another way to bring a little bit of your riding pride with you wherever you go. Like our Wired Earrings, they are entirely handmade right here in America, and while they are not recommended for riding, they are great for making a statement. The one-of-a-kind pendant is made from Copper and is clear coated to prevent it from tarnishing so it will keep its sparkle for years to come.
Even if you're not looking for a piece of jewelry, you can find some really interesting handmade cards, badges, and tools in our collection of accessories at the page to which we linked above. At the very least, you could always pick up one of our Unicycle Plastic Keychains and use that to carry around your essentials. It's a toned-down statement, but it sure will give you a way to show off your interests and skills.
Other Accessories
When you take some time to get familiar with some of the many interesting gifts and accessories that we offer on our website, you'll stumble across some other great finds in addition to what we have already investigated.
For example, we offer a number of really memorable and intriguing valve caps in our collection. It's only one small way to add a little personality to your ride, but you can definitely spice up your cycle with some custom valve caps. Check out our collection - we offer dice, grenades, aliens, eyeballs, and flamed-themed valve caps, among many others. We also offer a number of pedals in our collection that you can add to your unicycle to make it yours.
All of this comes in addition to stickers and emblems you can add to your car or windows. Whatever aspect of your lifestyle you're looking to spice up and personalize, we can help make that possible
Call Us!
If you're shopping for yourself or a friend and you'd like some suggestions or some guidance in picking out the perfect gift, don't be shy about giving us a call! Just like our collection of unicycles and riding gear, or collection of gifts and accessories is comprehensive, and we know it backward and forward.
Happy customers are the foundation of our business, and we'd love to hear from you, so reach out to us at 678-494-4962. We'd be more than happy to help you find what you're looking for so you can be confident in your purchase. Whether you need some specific information on a model of unicycle that we offer, are looking for recommendations on how to get started learning, or just need help picking out a gift, give us a call today!