Whether there's someone in your life that's already committed to a life pursuing the sport of one-wheeling or you know a cyclist who's always up for a new challenge, affordable, beginner unicycles make great gifts!
Learning to ride a unicycle is a great mental and physical exercise; it's low impact and can be equivalent to jogging or light running. It can improve your strength, coordination, sense of balance, and endurance, and it might even hone your critical thinking skills!
If you need a unique gift for a special someone (or just for yourself) check out some of the following beginner unicycles. They're all best-selling highlights from our collection.
Club 20" Freestyle Unicycle
All things being equal, smaller wheel sizes are more forgiving as they can be easier to maneuver and carry less rotational momentum. For many adult learners, our Club 20" Freestyle is the ideal for choice to tackle the trials of a unicycle.
Get in the saddle of this 20" beginner model, available here in black, blue, green, and orange. They're ideal for riders with a minimum inseam length of 24 inches. They're also tough; they have steel frames and aluminum single wall rims.
These unicycles are also great not only for learners, but for freestyle riding (of course) as well as for unique sports like unicycle hockey and unicycle basketball.
Club 24" Unicycle
Looking for a gift for a rider who's a little bit taller? Check out our Club 24" Unicycle, another one of the top-selling beginner unicycles on our website.
With its larger wheel size, this unicycle is suitable for riders with a minimum inseam length of 28 inches and is not just great for beginners. It's also suitable for freestyle, commuting, or for workouts. Just be aware that its single wall aluminum rims are not advisable for advanced or grueling tricks.
All the same, it's still a tough unicycle with a steel frame and a comfortable Club saddle. It's been one of our top-selling models for some time now - proof of its popularity with our customers.
Nimbus II 24" Unicycle
The Nimbus II 24" Unicycle isn't just great for beginner riders with a minimum inseam length of 28 inches and Nimbus fans. It's also made with exceptionally high-quality components and suitable for more grueling use.
Like the Club 24" model, this unicycle also has a steel frame. However, in place of single wall aluminum frames, it has double-wall steel frames, making it much more suitable for freestyle riding and performing advanced tricks. It also features ISIS cranks, which provide a secure fit and superior durability when compared to cotterless cranks.
Looking for a gift for a taller rider who's interested in getting into different disciplines? This may just be it!
Hoppley 16" Unicycle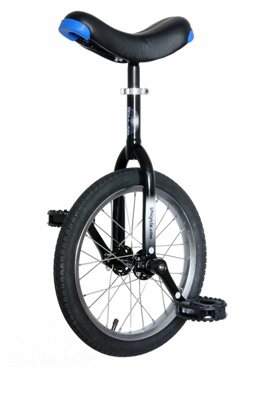 Now let's talk about some suitable unicycles for younger riders. The Hoppley 16" Unicycle is absolutely ideal for many young learners. It's available with two different seatposts, making it suitable for riders with an inseam measurement of 22 inches (200mm model) to 24 inches (300mm model).
The smaller wheel is also easier for many beginner riders to control, making the unicycle more agile as well. Just remember two things: this smaller wheel is really only useful for riding on smooth surfaces - we recommend indoor riding. In addition, though it has a steel rim, it's a single wall rim, so this little ride should not be used for advanced tricks!
If you're interested in a gift package, you can bundle this little unicycle with safety gear and educational, instructional materials as well!
Hoppley 12" Unicycle
Ideal for very young riders, our Hoppley 12" Unicycle is suitable for riders with inseam measurements between 19.5 and 22 inches, depending on the size of the seatpost you pair with it.
It's never too early to get young riders interested, and this little unicycle is just the ticket. It's tough and manufactured to a high standard of quality. Just remember that the same caveats apply to this little cycle. Its small wheel makes it maneuverable, but finicky on uneven ground. It is for riding on smooth surfaces only - preferably indoors. Like the 16" model mentioned above, its single wall steel rim is not suitable for advanced or rigorous tricks. This is a beginner cycle for young riders, through and through!
You can also pair this one with safety gear and instructional materials if you'd like to make a gift package!
For the Throwback Fans: Try a Schwinn Retro Unicycle!
They're not just great for beginners, they're great for collectors and fans of history, too - they're also some of the more popular unicycles on our site.
Our Schwinn Retro Unicycles are available in two sizes, 20 and 24 inches. Both come with a round crown, orange, Schwinn steel frame that is attractively emblazoned with the Schwinn logo. These are made just the way they were in Chicago - great gifts for beginners and Schwinn enthusiasts alike!
Give an Odd Bike Instead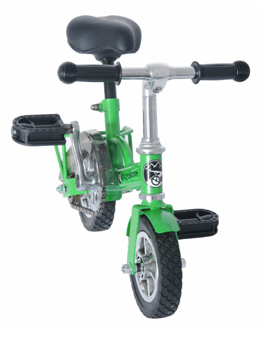 Maybe you have a cyclist who's a fan of trick riding, BMX stunts, or history, someone more interested in bicycles than in unicycles. We have great gifts for these riders as well! An odd bike like one of our circus clown bikes or penny farthings would be ideal!
Clown Circus Bikes and Penny Farthings
Have a friend that loves turning heads and pulling stunts? Consider giving a UDC Mini Bike as a gift! It may be a miniature bicycle, but anyone can ride it - just squeeze down into the saddle! It's also only a clown circus bike in name only; it's rock-solid, with solid rubber tires, a steel frame, and a lift handle integrated into the saddle.
Our Hoppley 20" Circus Bike is another solid selling clown circus bike. It also has a steel frame and wheels that spin entirely independently of each other. Plus, with its two front pegs, you can try stunts with two riders!
Maybe a penny farthing would be a better gift - at the very least, they're great for history fans. Plus, there are some organizations around the world that are still devoted to riding and racing these curios.
Contact Us for Recommendations
These are some of our top-selling beginners' unicycles and unique and odd bikes. Whether you have a question about one of these one-wheelers or clown circus bikes, feel free to get in touch with us.
We'd be happy to make recommendations and answer any of your questions. Give us a call at 678-494-4962 and we'll be glad to help!