There are two ways to determine what size unicycle you need. One has to do with the length of your inseam measurements, as your height and leg length will ultimately decide whether or not you can feasibly ride some unicycles and not others.
But if you take that out of the picture, the most important thing you can evaluate to help you determine whether a unicycle's size is appropriate for you is its intended purpose.
There are all different sorts of unicycle-based sports and riding disciplines that require differently sized unicycles, such as mountain unicycling (affectionately known as Muni riding), trials riding, freestyle riding, and commuting.
There are, of course, also specialty unicycles like giraffe unicycles, as well as beginner models that are unspecialized and the perfect size for agility, handling, comfort, and forgiveness.
Unicycles are specially adapted to their intended discipline. Consider, for example, that many Muni models have large, comfortable saddles and wide tires with aggressive treads. This makes them more suitable for riding over uneven terrain or on loose soil.
Conversely, commuter unicycles tend to have thin tires that are nearly smooth. They don't handle well off road, but the larger tires carry more rotational momentum and travel a greater distance with every revolution.
In essence, this is an instance of there being "different strokes for different folks." Let us draw a corollary: there are different unicycles for different riders.
So let's talk about wheel size a little bit - specifically models with 32 inch tires. Unicycles with 32 inch tires don't get enough love - at least in our estimation. They tend to get overshadowed by riders that gloss right over them looking at models with 29 and 36-inch tires.
It all has to do with wheel size, speed, and handling. Let's peel back the layers.
Speed: Bigger Is Better
First things first. The larger the wheel of a unicycle, the faster its top speed.
Now, a particularly athletic, experienced unicycle rider might be able to ride a 29-inch unicycle at a higher top speed than a beginner riding a 36-inch model, but there are two problems here. The expert would be able to ride the 36-inch model faster, and a beginner has no business being in the saddle of a 36-incher, anyway.
The reason for this is that, in the absence of a chain drive, the size of the wheel is what dictates how fast a unicycle will go. This is why early bicycles, like penny-farthings, had comically large front wheels. It was the "need for speed," so to speak.
As tire size increases, so does circumference, which is a product of diameter. The higher the circumference of the wheel, the higher the linear distance the wheel will be able to travel with each revolution. It's simple math.
So, the larger the wheel, the faster the theoretical top speed of the unicycle. Of course, rider skill and experience factor into this, too.
This is why so many commuter, touring and road unicycles have 29, 32, and 36-inch wheels. These larger wheels enable faster speeds without tiring the rider out - which is just what you need for going greater distances.
There's a catch. The larger wheel size means that the unicycles are not as nimble or agile as smaller models, and it takes greater strength and coordination to start, stop, or turn them.
This brings us to the next point, which is handling.
Handling: Bigger Is Not (Necessarily) Better
The smaller the wheel size, the more responsive the handling of a unicycle is generally going to be - with a caveat. It's important to note that smaller wheel sizes are less forgiving over uneven ground. For that reason, many small and beginner unicycles (with wheel sizes under 20") are better ridden only on very smooth ground, preferably indoors.
But, with that out of the way, it can also be said that smaller wheels are more agile, more nimble, easier to turn, and easier to start and stop. Part of the reason for this is that smaller wheels carry less rotational momentum, which means less force is required to start and stop them.
As a result, unicycles that are intended to be ridden for trials or freestyle, or for trick riding, tend to have smaller wheels. Unicycles with wheel sizes within the area of 20" to 26" are pretty well suited for this.
Unicycles with tire sizes in that range are not as suitable for riding faster for longer, but they are very versatile and very responsive, especially in the hands of an experienced rider.
In fact, the larger the wheel size, the more cumbersome it can be to maneuver a unicycle, so smaller is generally better.
The Middle Ground?
Now let's talk about the middle ground because there is a size unicycle that doesn't get the press time it deserves, for either speed or handling.
Enter unicycles with 32 inch tires. These are pretty versatile unicycles, especially for commuting, because they both handle very well and are pretty fast.
To go by the numbers, unicycles with 32 inch tires handle similarly to models with 29-inch tires, while being significantly faster - by about 2 or 3 miles per hour.
This means they handle much better than 36-inch unicycles, despite the fact that they are marginally slower - only by about 1 mph, in the hands of a capable, experienced rider.
So, if you're thinking about getting a commuter unicycle, and you need something that is fast yet relatively responsive, don't shoot straight for a 36-inch model. Give some consideration to a unicycle with 32 inch tires, and if you need something slightly more responsive, consider a unicycle with 29 or even 27.5-inch tires - the smaller one is even more agile and still relatively fast.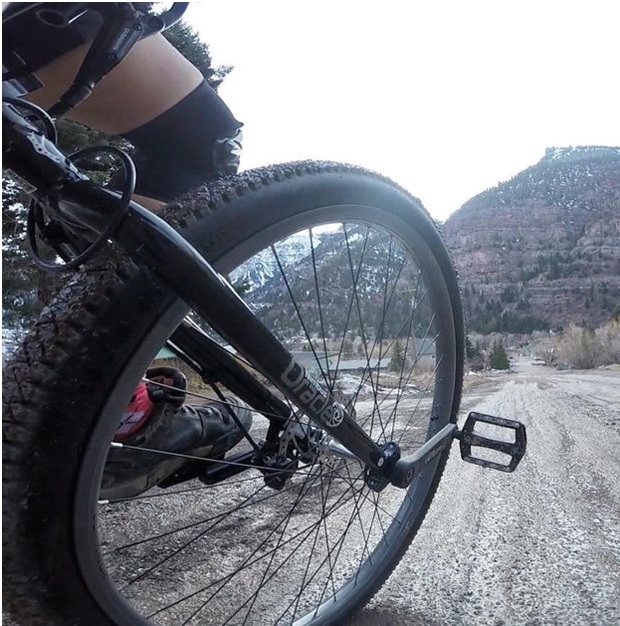 Get a Unicycle with 32 inch Tires Here!
Now the good news - whether you're looking for a unicycle with 27.5, 29, 32, or 36-inch tires (or any other size) we have them.
Take a look through our collection and pick out one that appeals to you, and if you have any questions, get in touch with us at 678-494-4962.