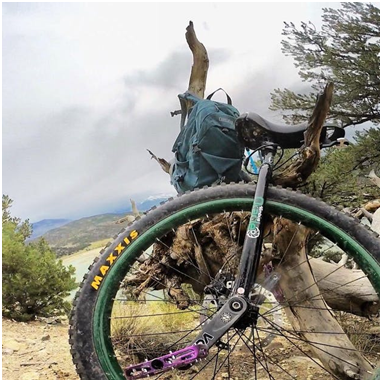 Picking up an extreme mountain unicycle will challenge you in ways you never even knew existed. Backing that up, picking up any unicycle will challenge you in those ways. There's a likelihood you took up unicycling before you even knew you would develop an interest in extreme mountain unicycling.
Whatever the case, if you've taken up an extreme mountain unicycle for muni riding, there are a lot of perks that come along with the territory. Extreme mountain unicycling is an amazingly great workout that strengthens the body, increases your stamina and can make you a better athlete overall. Extreme mountain unicycling can also take you places throughout the country where you can connect with like minds while at the same time refining your skills and seeing some wonderful sights.
Here are some of the muni fests around the country and other places where you can practice muni riding, learn some new things and experience a huge variety of terrain.
S.T.O.M.P. Munfest (October 16-18)
What list of muni fests would be complete without S.T.O.M.P.? If you're serious about extreme mountain unicycling, then you should check it out at least once.
STOMP, or Southern Trails of Oak Mountain Park, muni fest, takes place very near Alabama's capital. Just a few miles outside of Birmingham, Oak Mountain Park presents serious mountain unicyclists with 25 miles of challenging terrain.
Oak Mountain Park has been given the highly esteemed Certificate of Excellence by TripAdvisor all on its own merits and is nationally famous for its diverse landscape and the opportunities it affords a range of outdoorsmen from fishermen to falconers. It also features over 50 miles of trails for hiking, mountain biking, and of course, muni riding.
S.T.O.M.P. makes the most of Oak Mountain Park's scenery and wild landscape every year with a three-day excursion with rides geared toward beginners, intermediates and experienced riders alike.
Friday night, October 16th from 3-5 PM will begin check-ins. Later that night you'll have plenty of time to investigate the many trails in the area of the south trailhead. Dinner is at 6 around a fire, of course.
Saturday is where the real fun begins. Lutz Eichholz will lead a group of riders (intermediate and advanced only for this one) on a ride down the Black Diamond Trail. At midday, there will be time for lunch and plenty of free time for those who want to explore the many trails in the area on their own. There's a great diversity of landscape to be seen, with plenty of obstacles to navigate for you to hone your skills. Saturday night will see a barbecue, generously provided by S.T.O.M.P.
Sunday morning there will be an option for intermediate and advanced riders to tackle the Jekyll & Hyde Trail or the Rattlesnake Trail, about 5 miles. Beginners can join a ride along the Lake Trail or Mr. Toad's Wild Ride Trail, a little less rigorous and coming in at about 3 miles.
Although registration is required to attend the S.T.O.M.P. muni fest, they welcome riders to join at any time they are available during the weekend and are not required to stay for the duration or join at any given time.
If you've never been to a S.T.O.M.P. muni fest and you're serious about mountain unicycling, you should definitely try to attend at least one. For more information on this year's upcoming festival, for registration and news and for information on past festivals, visit S.T.O.M.P.'s website.
Moab Munifest
Moab's 2020 Munifest just took place in March, and while there isn't yet a date set for 2021, it's sure to be just as exciting and filled with challenges as the 2020 Munifest.
Those who wish to join the Moab Munifest must register as a USA member, but the event will be full of trail rides for everyone from beginners to advanced riders. This year's riders had the chance to test their skills against Captain Ahab, Slickrock, Porcupine, and other trails while enjoying the company of and learning from the other riders.
Even if you aren't interested in joining the organization or participating in the organized event, the areas around Moab, Utah present an amazing landscape very unlike the one you will experience at STOMP Munifest, should you ever choose to join.
Arches National Park is not only one of the most beautiful places in the country but offers a ton of natural obstacles for muni riders to challenge themselves against. Navigating some of the unpaved roads in Arches National Park takes more than an undue level of skill, patience, and determination. While you might not be navigating through the same type of terrain as Alabama can offer you, the obstacles in and around Moab or in Arches are unique all the same.
While you might not need to cross a log, you might be faced with a field of scree or rocks. Where you won't be crossing a stream or navigating drowned land, you will face the perils of deep or loosely packed sand. You'll also be up against a dry, trying environment that can test travelers on foot in its own right, let alone muni riders.
On top of the fact that you'll get to try your skills as a muni rider in Arches National Park or in the deserts around Moab, you'll also get to see some truly breathtaking sights. In fact, it's worth visiting the area even if you aren't a muni rider. It's one of the most beautiful areas of our country, to be sure.
As we stated, there is no date currently set for Moab Munifest 2021, but you should keep up with the news on their website to stay up to date and on top of developments. Keep up to date on the Moab munifest, especially if you want to join, as registration is required. You can also find information on their website about past Unicycle Events and UNICONS as well as news on new developments.
California Muni Weekend
Unfortunately, this event, like the Moab Munifest, has already passed for this current year and no new date has been set yet for 2021. However, it's definitely something to stay on top of if you're interested in seeing new sights and tackling new landscapes with your extreme mountain unicycle. California is a beautiful state with plenty of diversity in terrains for beginner muni riders and experts alike to take by the horns.
Although no new dates have been set for the upcoming year, riders just this past March got to experience a number of rides around Bass Lake and Oakhurst, California. Those who participated in the ride in March got to try out a section of Willow Creek despite the hazards associated with snow in the area. Originally the weekend was set to be postponed because of excessive snow, but riders were welcomed to try their mettle anyway.
In 2019, riders at the California Muni Weekend go to test their skills against a number of trails offering a number of different physical obstacles. The first day of the week riders took on the 007 and Chepo Saddle trails, a mixture of rocky sections, drops, and berms. Chepo Saddle, in particular, can test the skills of nearly any rider because of the uncertainty of the terrain. Much of the trail is a 'boulder playground' that can be a real thrill to ride.
On the second day of the 2019 California Muni Weekend riders got to try themselves against several other trails, the highlight of which was Willow Creek trail near Bass Lake. Advertised as the most scenic trail of the day, the trail itself offers not only beautiful views but obstacles like rocks and roots as well as boulders and drops, although it does offer some smoother sections.
The third day of the weekend is reserved for freeriding, sightseeing and patronizing local businesses, which gave the riders a little time to unwind and take in the scenery before concluding the weekend.
Along with the variety of challenges and different sights that you can expect to see as a participant in a California Muni Weekend, you can take along your extreme mountain unicycle and chase your goals of becoming a more adept rider. Although no future date is yet set, they've had great success in past years and upcoming weekends promise to be just an exhilarating. Check their Facebook page for news and developments so you can be ready to sign up if the event is scheduled.
NYC Unicycle Festival
The New York City Unicycle Festival is a yearly gathering of riders from all over the country who practice different forms of riding. Although it isn't strictly a mountain unicycle festival, New York City sure is a sight to see and the urban environment offers just as many challenges, although different, from mountain riding. Besides, you'll get to see New York City while you're there anyway, and the Big Apple deserves an audience nearly as much as Arches National Park.
Although no date is officially set for the upcoming year, the NYC Unicycle Festival typically takes place over labor day weekend. This past year, riders got to meet up with unicyclists from various walks of life, from those who are athletic competitors to those who haven't ridden in years. All enthusiasts were welcome and got to participate in or witness rides, shows, trials, workshops and inventive sports like unicycle basketball and unicycle sumo.
The first day of the 2019 festival saw riders taking a ride up the West Side before pursuing a course through Central Park to see a bit of greenery without even having to leave the city. The second day of the festival riders got to take a trip across the Brooklyn Bridge and around City Hall, before closing out the final two days of the festival on Governors Island with a spectacular array of events.
Riders got to participate in races and different types of competitions such as unicycle hockey, basketball, and sumo wrestling. Extreme riders got to try out their Hell on Wheels Trial course to refine their skills.
New York City doesn't offer obstacles like boulder fields and logjams, but it sure offers enough sights and challenges of its own. From crowds to traffic to fixtures of urban design like curbs, benches and an endless variety of other features, urban riding is like its own form of trial course. Spend three or four days getting to know New York City from a unicycle saddle and you'll see just what we mean. Truthfully, even if you just go to New York to take a trip there and see the city that's worth it too.
For the latest news and development for the planning up upcoming New York City unicycle, check their website. You can also learn about their history as well as past events on their site.
As we mentioned, several of these events are not currently planned for the immediate future, although they are typically a yearly occurrence, so your best bet is just to keep up to date on their news through their websites or to reach out to the organizers for the latest news.
Keep in mind, also, that developments associated with the spread of the novel Coronavirus may cause delays or cancellations of any events that are already on the books. Be sure to keep in touch with any events you are following or planning to attend because the schedules may change with little notice in the coming months.
If you're looking for your first time unicycle, or need recommendations for an extreme mountain unicycle that you can use to jump right into some of these munifests, check out our page on mountain unicycles or give us a call at 678-484-4962 for our input. We'll help you pick the perfect model.