Unicycle.com is your source for all of the essential parts, gear, and unicycle tools you need to enjoy our sport to the fullest. Need a new seatpost clamp? You're in the right place! Looking for a brand new unicycle or odd bike? We have it.
Need a crank puller and a new set of cranks to upgrade your current ride? Interested in a new seatpost or a new tire or even a saddle? Whatever you're looking for, we have what you need, with more unicycle parts and accessories than you'll find anywhere else.
Parts, unicycle gifts, accessories, and tools are only a part of the bigger picture. In addition to these, we also carry the essential safety gear you need to be as safe as possible when you're practicing and refining your skills.
If you're looking for knee, elbow, and wrist pads, we have those too (on top of our other safety gear). Here's what you need them and what you need to look for to ensure you get the highest quality and performance from your gear.
Risks of Riding
Every time you get in the saddle you're running the risk of a mishap. That's a cynical way to look at the sport, and we wouldn't mention it if safety weren't so important. You can be as optimistic as you like, but without pragmatism, you're just taking unnecessary risks.
Even for experienced riders, unplanned dismounts occur and they're more often than not unforeseeable. That's why it's an unplanned dismount. Some are worse than others; if you're just idling in one place on the grass and temporarily lose your balance, taking a spill is probably no big deal.
Riding on concrete or on a trail changes that picture significantly. If you're not prepared with unicycle safety gear before you tackle these challenges, you could be in for a rude awakening. It can be downright dangerous riding up a mountainside or on a course full of obstacles if you're not wearing the right safety gear. It's risky enough with the right safety gear. This is why you need, among other things, knee, elbow, and wrist pads. We'll start here and give you some insight into the other essential components of safety gear a little further along.
What Traits Equate to Quality?
Just because products qualify broadly as knee, elbow, and wrist pads does not mean that they are made to exhibit a level of quality that is intended to protect you fully. Everything we sell here at Unicycle.com is carefully and individually picked on the basis of its merits, but if you don't believe us check us by applying the following criteria to any of the safety gear we sell. We're confident the justification will stand on its own.
-Impact resistance: Impact resistance in unicycle safety gear is important for two very important reasons. The lesser of these two reasons is that the tougher and harder the outer shell of a knee or elbow pads are, the better they will stand up over years of riding, and the more you will get for what you paid. The more important reason that impact resistance is a prime quality in safety pads is that that resistance or "hardness" is the main thing that comes between you and the ground or some obstacle into which you've unfortunately chanced to run. You can see for yourself that the safety pads on our website are made with either high-impact polypropylene shells or ABS splints. Both of these synthetics are rock-solid, can handle rough use, and are tops for protecting riders - but they don't work alone.
-Internal cushioning: Impact resistance works alongside internal cushioning to help diminish the impulse of impact. If safety pads were just hard external shells, they would transfer all of the force of impact into you when you fell. That's not good!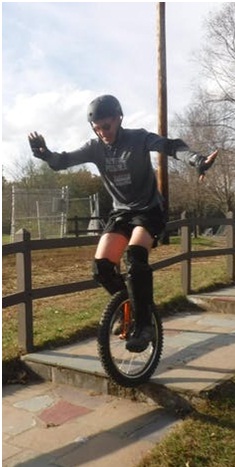 Instead, make sure that all of your safety pads have some sort of interposing, shock-absorbent material like EVA, which is used by much of the safety gear on our website. EVA, or ethylene-vinyl acetate, is amazingly light and possibly just as amazing at cushioning and protecting. You won't get tired wearing it, it has closed-cell construction so it won't absorb moisture or perspiration, and most importantly, it will help cushion you should you ever find yourself with nothing between you and the ground but your safety pads.
-Resilient outer skin: In some instances, it's the resilient outer skin that holds it all together. The EVA foam cushions your fall and the durable outer shell protects you from the abrasive nature of the ground and of other obstacles, but you need to expect a certain measure of durability from the skin too. If your pads are made with light or flimsy material and it wears away, you'll need to replace them much sooner than you might otherwise have liked.
-Adjustability: What good are safety pads if you can adjust them to fit your measurements? Not particularly good, which is why our knee, elbow, and wrist pads exhibit varying degrees of adjustability so that they can fit you better. In fact, adjustability is not just a matter of comfort, it's actually directly about protection. If your padding shifts around on your knees or elbows and doesn't fit you snugly, it can actually increase your likelihood of being injured in the event of a fall. Make sure you get a pair of pads (or a set of pads) that can be adjusted for a snug fit to you, regardless of the other features - and if you aren't sure about sizing, just ask.
-Ergonomic design for comfort: It will be hard for you to keep safety in perspective if you have to suffer through wearing the safety gear. Believe us, there is some downright uncomfortable safety gear out there - even safety gear that is nearly painful to wear. Stay far away from this; there's no reason comfort should take a hit just because you need to add some padding and protection to your gear.
Ergonomic design will vary according to the pads in question, but look out for it and see what is offered with each. You should strive to be as comfortable as you can be with your safety gear; riding a unicycle is hard enough as it is!
-Ventilation to keep you cool: On the topic of comfort, ventilation should get its own category. Little is more uncomfortable than pairing a hot day with exertion and safety gear that doesn't breathe - and again, believe us, there's hot, uncomfortable safety gear out there. It might protect you, but it'll take its toll in comfort and chafing.
That's the main reason you should actively be on the lookout for safety gear that is adequately vented or openly advertises any quick-drying features it has. You'll be much more comfortable on all but the coldest of days, in which scenario you might be bundling up with extra clothes that will protect you against the cold as well as from falls.
-Convenient add ons: There's no easy way to quantify just what convenient add ons mean because each piece of safety gear will have its own sets of features. However, something like comfortable, flexible material that enhances adjustability would certainly qualify. You might also be looking for a pair of knee pads that, for example, have an open back so you would be able to get them on and off without having to remove your shoes. Again, take it on a case-by-case basis, and pay close attention to the fine details of the features that each set of pads offers.
If you can account for all of those features, then you're at least three-quarters of the way to a new set of knee, elbow, and wrist pads to round out your repertoire of safety gear. That being said, these pads alone don't constitute a complete set of unicycle safety gear. For that, you'll need at minimum a helmet, but you might also want to consider picking up some of the following safety gear items in addition.
What Other Safety Gear Should You Use
●A Helmet: Without a doubt, a helmet is the single most important piece of safety gear, not only for unicyclists but for all riders who routinely get in the saddle. While the vast majority of tumbles from the saddle are not serious, the vast majority of serious accidents involve injury to the head. That makes a helmet a priority. Don't even waste your time looking at safety gear until you have picked out a quality helmet to keep you safe.
The traits that make a helmet suitable actually share a lot in common with the other pieces of safety gear we mentioned. A helmet should have, among other things, a tough, impact-resistant outer shell and soft inserts, EVA or otherwise, to help absorb shocks. It should also be ventilated (ideally) and should be adjustable and comfortable. Other nice things to get with a helmet if you can find them include visors to keep the sun out of your eyes, and style. Style is personal preference though, so have at it.
●Gloves: if you're going to get wrist guards, you might as well get a pair of gloves as well to increase the protective nature of your safety gear. Some gloves even have straps that run the length of your wrists to better protect them and so can serve as a sort of wrist guard. Gloves like our Kris Holm Pulse Gloves, available in both full and half-finger versions, are comfortable and extremely protective. They not only provide additional protection to your hands but they even improve your grip in the process. They even protect your wrists without the clunky, stuffy feeling of some wrist guards out there.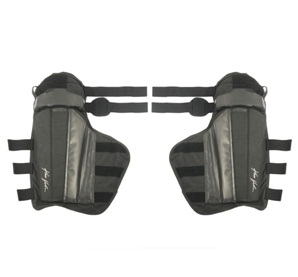 ●Leg Armor: Leg armor is a unique all-in-one approach to protecting your knees and shins from impact and injury, rolling the protective benefits of knee-pads into a more inclusive outfit. Leg armor, like our Kris Holm Percussion models, is loaded down with features to keep you both safe and comfortable as you hone your skills.
Made with ballistic grade nylon paired with wicking polyester to keep you cool and dry, Kris Holm Percussion Leg Armor provides full coverage along the front and back of the leg; even the inside of your legs are protected by polyurethane patches to protect against contact with your unicycle's tire.
The knee coverings are well padded, but flexible and low profile, that way you can better avoid the unicycle's crown. They're also vented to keep you cool in the heat, which, when paired with the wicking polyester inserts, should keep you cool and comfortable. If you want a little more than just the simple protection of knee pads, then you should consider leg armor - it's much more holistically designed to better protect your knees and lower legs.
Considering convenience and ergonomics, this leg armor has a lot going for it. It's comfortable, ergonomically designed, and perhaps best of all, it's even machine washable.
●Shoes: Finally, though you might consider shoes just another aspect of clothing, they're just as important as protective gear as gloves or even knee pads. Much of the time, when you fall off of a unicycle, the first thing that will come in contact with the ground is your feet. Wear sturdy riding shoes or sneakers and pair them with knee pads or leg armor and sooner or later you'll be glad you did. Plus, shoes protect you from the spokes and the tire, too, even if you don't fall out of the saddle.
Call Us for Help!
Looking for suggestions or recommendations? First, check out our collection of unicycle safety gear, and then give us a call if you want to learn more about some of our products' fine points and features. We'll have you set with a fleet of safety gear in no time. You can reach us via the live chat feature on our website or call us at 678-494-4962 to speak with us directly.