Schwinn Bicycle Company has a much more illustrious history than many may realize, and believe it or not (and despite the name) Schwinn is stamped on more than just bikes. Case in point - Schwinn has produced unicycles for many years, and a Schwinn retro unicycle just might make a classic gift for a hardcore unicyclist with an appreciation for throwbacks.
A Brief History of Schwinn
While some Schwinn fanatics might be familiar with Schwinn's formal founding here in the United States, in Chicago in 1895, they might not be familiar with the fact that Schwinn's history of expertise stretches back farther than that.
Schwinn's founder, Ignaz Schwinn, was a machinist with experience working on early bicycles in Europe in the 19th century. When he came to the U.S. in 1890, he brought that experience with him, working for several bicycle producers in the United States. Eventually, he founded Arnold, Schwinn & Company in 1895 in Chicago, Illinois.
Early Schwinn bicycles were buoyed by a burgeoning craze in cycling, in part spurred by their novelty and the fact that they preceded the widespread availability of motor vehicles. Early sales figures for Schwinn were large, as they were in the United States in general. By 1900, over a million bicycles per day were being produced in America.
Although the early 1900s hit the bicycle industry hard, a series of important strategic decisions kept Schwinn in the limelight. As competition for both parts and business became fierce, Schwinn realized that strategic acquisitions were critical to continue growth.
In 1912. Schwinn acquired Excelsior Motor Company, a pioneer in the production of internal combustion engines that would in part constitute some of the competition faced by producers of bicycles. By 1917, Schwinn absorbed some more of the competition with the acquisition of Henderson Company. While many producers in the industry suffered, Schwinn enjoyed continued success.
These investments were fortunate with the depression on the horizon. Many producers went out of business through the 1930's but Schwinn doubled-down on the production of bicycles and made it through. In the years that followed, Schwinn became an uncontested leader in the industry, producing several technologically advanced features.
Over the years, Schwinn has led the industry in innovation and quality, introducing a wide variety of features. For example, Schwinn was the first to develop and produce the fore-wheel brake, which improves handling, braking and safety. Schwinn also developed mud guards, which protect the rider and the bicycle from mud and debris that would be picked up and distributed by the tires. Schwinn also developed cyclelocks, cantilever frames, and many other features that went on to become staples in the industry.
Schwinn's popularity over the years has been fed by everything from genuine innovation to celebrity interest to the rise of sports like bicycle racing and BMX. Well known for models like the Schwinn Sting Ray and Ten Speed, over its history, Schwinn has produced a variety of unicycles as well - the original inspiration for which you'll still find distilled in a fine example of a Schwinn retro unicycle.
Despite the fact that Schwinn was sold and is currently owned by Dorel Industries, headquartered in Vancouver, Washington, the company still produces many fine cycles that are every bit worthy of the name - and if you don't have a Schwinn unicycle in your collection, you're missing out.
Schwinn Retro Unicycle Highlights
Here at Unicycle.com, we offer Schwinn retro unicycles, a 20 inch model and a 24 inch model, both of which share a lot in common.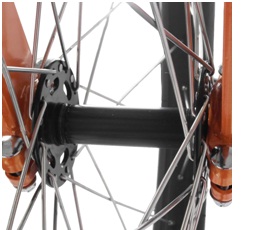 Both models feature the Schwinn signature orange unicycle frame that is produced much as it was during their years in Chicago, but with updated bearing holders that are better equipped to handle modern wheels. The frames of both models are made of steel and have 40mm stamped main cap bearing housings.
Each of these models has a black Schwinn axle with a hardened CrMo spindle. From center bearing to center bearing is 100mm. They both have stainless steel chrome spokes and despite the difference in the size of the tires, both feature singlewall aluminum rims. Both models accept cotterless cranks.
They're also both considered cruiser unicycles, so the difference in size will mostly impact their suitability for riders of different heights and inseam lengths. The minimum inseam length recommended for the 20 inch model is 28 inches whereas the minimum length for the 24 inch model is 33 inches.
All things being equal, if you can ride both unicycles, remember that you can attain slightly higher speeds on the larger model, so if you're going to use this unicycle for commuting and not simply for joyriding, the larger model might be more suitable. Otherwise, you can add two of these Schwinn retro unicycles to your collection!
Thinking about the One Wheeler?
Need another reason besides nostalgia to hop on one of these retro unicycles? Check out our blog on "Five Great Reasons to Get Yourself a Unicycle forMountain Riding." Sure, it's about mountain unicycling, but the benefits included there extend beyond the sport of muni-riding.
You may have been aware that tackling the one-wheeler was a great workout and a great way to make you a better cyclist, but did you realize it might even be able to hone your critical thinking skills as well? Check it out and see for yourself! Besides, maybe there's room for more than a retro unicycle in your assembly - you might just need to take up mountain riding as well.
Contact us for Help!
Do you have any questions about our Schwinn unicycles that we haven't answered here? You can check out our product pages for specific inquiries, but our customer service team would be glad to help out.
You can reach us via the live chat feature on our website (at the bottom right of this page), but if you don't get us here, you can get us on the phone. Give us a ring at 678-494-4962 and let us know how we can help!